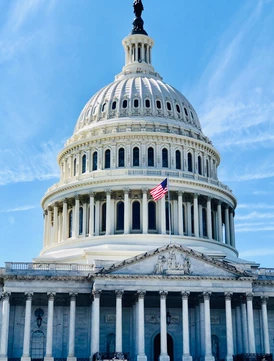 Congress passed, and President Trump signed into law, a new federal COVID stimulus plan.

The bill includes $600 stimulus payments, as well as a new round of PPP loan funding.

There is already talk of increasing the amount of the stimulus payments to $2000.
Well I was all set to write this week about some cool new commercial developments happening because it looked like the President was going to veto the new stimulus bill. Then wouldn't you know it? President Trump changed his mind and signed the bill into law.
So now we have a new stimulus bill. But what is in it? Are there provisions that directly affect the commercial real estate industry? What about other small businesses? Those are the questions we are looking to answer in this article. And don't forget to check back in next week – when I actually write that article about cool new developments.
Contents of the New Bill
The bill has a lot of different moving parts in it. But because this blog focuses on commercial real estate, I will focus mostly on the ones affecting our industry. Anyway, the bill includes:
$600 stimulus checks – This is the most well-known part of the new bill and the reason I thought President Trump was going to veto it (he said he wanted the stimulus checks to be $2,000). According to reports, the Treasury wants to start sending checks to people as soon as this week.

Unemployment benefits – The federal unemployment benefits of $300 per week will continue until at least March 14, 2021.

Second round of PPP loans – Congress allocated $285 billion for a "Second Draw" of PPP loans. Specifically, these loans are capped at $2 million per company and are available only to companies with less than 300 employees and who saw a 25% decrease in sales in at least one of the first three quarters of 2020 (as compared to the same quarter in 2019). I talk about some more details of the PPP loans below.

Eviction Moratorium Extension – As I correctly predicted a few blog posts ago*, the new stimulus plan extends the federal moratorium on evictions until January 31, 2021.

Other provisions – There are a lot of other provisions – for example, money for education, foreign investment, infrastructure, child care, vaccines, etc.
Second Draw PPP Loans
Congress tried to be much more specific in this bill about who gets the PPP loans and what they can be used for. For example, as I wrote above, they are much more limited on who can collect them. So I wanted to go into the details a little more.
In addition to the eligibility rules described above, the bill contains the following additional PPP terms:
The funding has many different limits that specifically set out funds for truly small companies (i.e. $25 billion for borrowers with 10 or fewer employees);

$12 billion for minority owned businesses;

$15 billion set aside for the entertainment industry, including independent movie theaters, entertainment venues, music clubs, and cultural institutions; and

Expansion of the allowable expenses and forgivable uses for PPP funding.
Is this the End?
As I mentioned above, President Trump wanted the individual payments to be $2,000, not $600. There is talk, therefore, that there may be another stimulus package in the near future. Also – as with the last stimulus – there will undoubtedly be questions that arise that were not covered in this bill. And clarification will be necessary.
And, as I am writing, this came across the twitter machine –
"BREAKING: US House passes bill that would increase COVID stimulus payments from $600 to $2,000 by 275-134 vote, needing two-thirds majority to pass. Measure now moves to US Senate."
Today (Tuesday), Senator McConnell has blocked the first attempt to debate the $2,000 stimulus in the Senate. Instead, Senator McConnell acknowledged that President Trump called for not only larger stimulus checks but also curbs on large tech companies and an investigation into the November election. Senator McConnell, therefore, said the "Senate will begin a process to bring these three priorities into focus."
So there are sure to be new developments this week. When there are, we will try to keep everyone updated through our blog. So check back soon to Tales of Legal Madness.
*Just kidding. I incorrectly predicted that the federal government would not extend the nationwide eviction moratorium. Carnac the Magnificent I am not (to continue my use of 40 year old references).